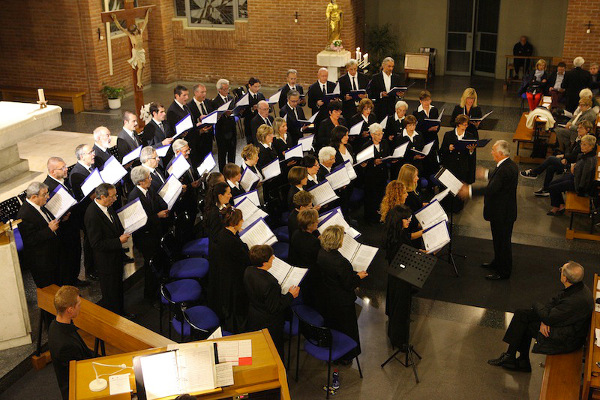 The was founded in 1979 by Silvano Bertolo (still its current conductor) as a development of the local Parish Church Choir. The first concert was given for the 25th anniversary of priesthood in Almese of Don Ettore Ghiano.

Since then, the Choir has made regular appearances in Almese and in many other churches and theaters.

Its schedule brought it in prestigious venues such as Notre Dame de Paris, St Peters Kirche in Salzburg Austria, St François de Sales in Annecy France, St Paul Kirche in Munich Germany and Jougne, France.

In Italy, the Choir has sung at the Turin's RAI Auditorium, Teatro Carignano, Piccolo Regio, Conservatorio «Giuseppe Verdi», St Rita Sanctuary and in the Asti's Collegiata di S.Secondo, Precettoria of Sant'Antonio di Ranverso, Sacra di San Michele Abbey.
This is just a short list out of many other places in Italy and France.


The «a cappella» repertoire includes works in a wide variety of styles, from early music to the Beatles.
The Christmas repertoire is particularly rich with Carols from the British and European tradition but the Holy Week one is very interesting as well.
Pop music is also part of the Choir's activity.

Roberto Bertero has joined the Choir as a Principal Guest Organist in 1986 when he was only 16.
He still keeps the position even though he has now started a career as a worldwide soloist visiting the most important Organ Festivals in the five Continents.
He is also organist at the «Consolata» Sanctuary in Turin.

The Choir's spirit is to gather people who like to share the pleasure of learning and performing choral music in a friendly atmosphere.
Music and singing techniques are not mandatory (there is no entry test) but a strong will to learn with positive attitude is strongly welcome.
For those who want to improve their skills, the Choir organizes regularly classes of solfeggio and vocal music techniques.

One of the Choir's most important intiatives is the «Musica d'Autunno» Music festival which, since 1992, takes place every year during September and October in Almese.
This festival regularly hosts the National RAI Symphony Orchestra (every year since 1993), some of the most important international organ players, Chamber music groups, and choirs (such as the Turin's Teatro Regio Choir).